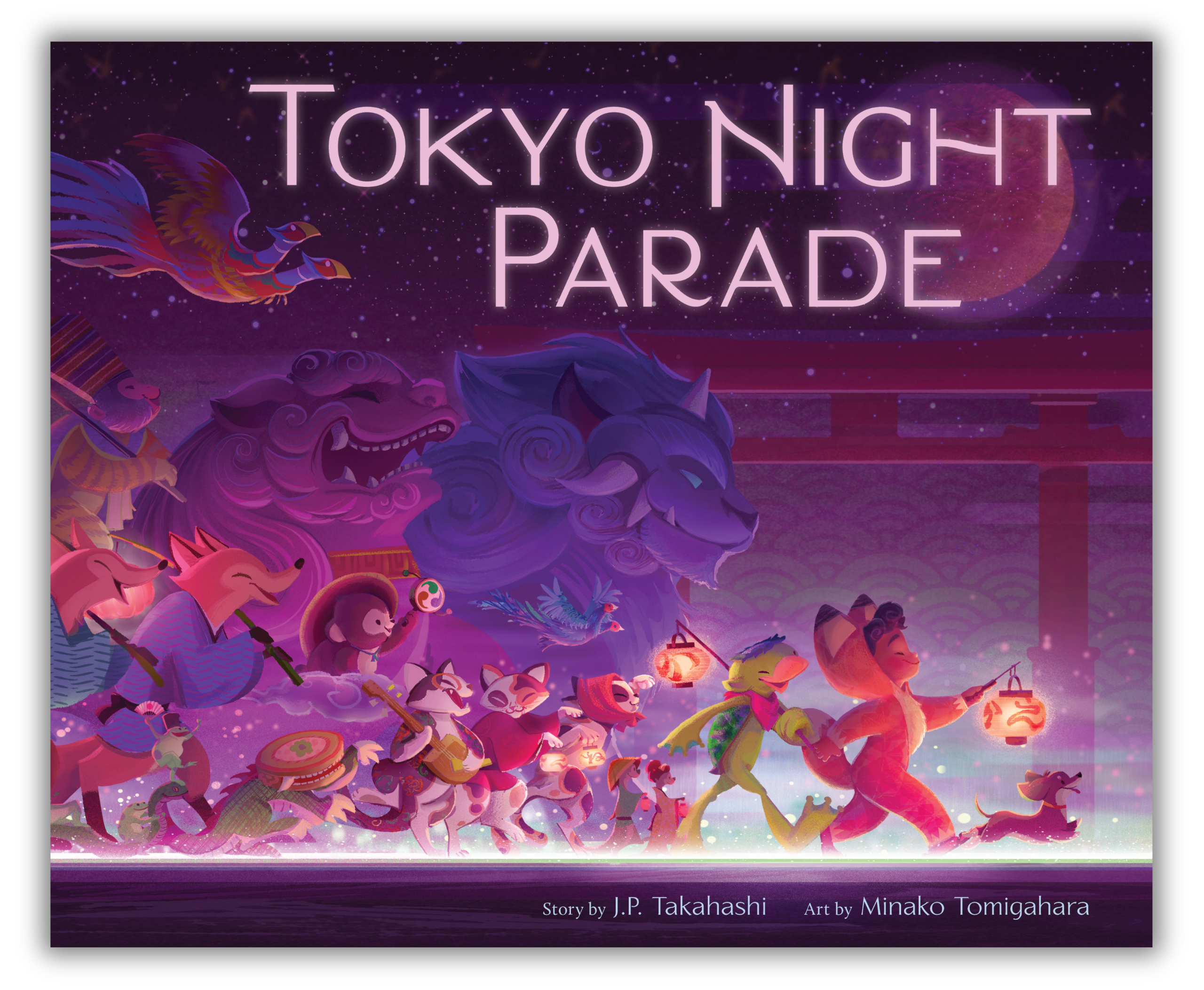 HarperCollins / Tegen
October 10, 2023
Tokyo Night Parade
A Black Japanese girl returns to Tokyo to visit her grandfather and celebrate the Night Parade of One Hundred Demons.
The night parade is about to begin…
The ground thunders in Tokyo. A gust of wind blows. The pitter-patter of paws and claws draws closer. The air is thick with swirling, swooping demons.
It's Eka's favorite evening of the year, the one night she refuses to miss. But it's become harder to travel to Japan now that she's living across the world in New York. Unsure of when she can return next to see her yokai friends, Eka tries to forgether that this could be her last parade for some time.
Instead, she'll march, sing, dance, and screech until sunrise. Because on this night, there's no time to waste — the night parade awaits.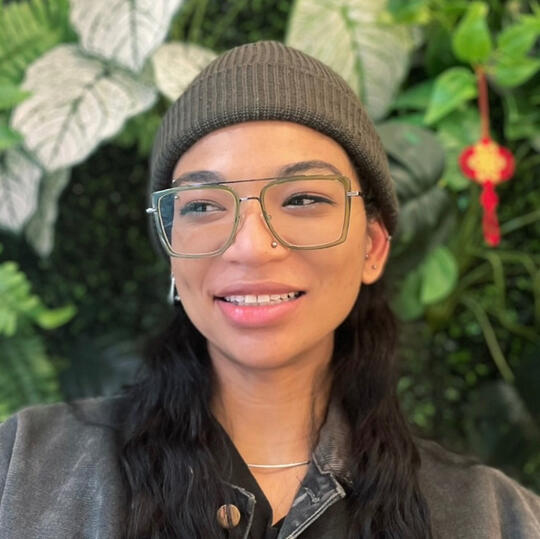 J.P. Takahashi
Children's Author
Bio
J.P. Takahashi was born in New York City and raised by a family of readers in the United States and Japan. She loves a good adventure, in real life and in her imagination—especially when it's as scary as it is magical.Find J.P. online at JPTakahashi.com and on Twitter @TakahashiPerry.
School Library Journal
★ "A glorious night parade through the streets of Tokyo. Offering a glimpse of modern and traditional Japanese culture, this tale will charm a wide audience, including readers unfamiliar with and those enamored of its folklore, fiction, and manga." (starred review)
Kirkus
"Eka's questions about whether the yokai are good or wicked offer intriguing food for thought—like humans, the yokai contain multitudes. With its beautiful night palette, the artwork glows and brings the text and monsters to life. A beautiful tale of friendship and living in the moment."
Publishers Weekly
"In this yokai-studded reimagining of Japanese folklore, a child who has "come home to Tokyo" reunites with fantastical friends on her favorite evening—that of the Night Parade of One Hundred Demons. [A] visually appealing nighttime romp."
Barnes & Noble
"A beautiful blend of the old and new, Takahashi and Tomigahara's storytelling deserves attention across all ages and after you experience it, you'll find yourself admiring the stars, in awe and delighted by the unknowns."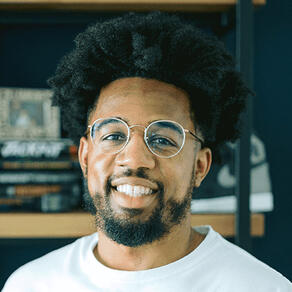 "A magical ode to the In-Between—to the space between homes, between creaturely and human worlds, between what the heart can hold and what it misses. This sparkling, Miyazaki-hued story instantly whisked me back to childhood summers in Tokyo, to far-out fables and night festivals, reminding me: the supernatural is often the best doorway to the true."
— Kyo Maclear, author of The Big Bath House and Kumo

"Melodic and mesmerizing and thrilling yet tender, this book is a lush sensory and emotional experience."
— Jamilah Thompkins-Bigelow, critically-acclaimed children's author
"TOKYO NIGHT PARADE will leave readers longing for the worlds we've known and curious about the worlds we've yet to discover. An unforgettable story combines with a gorgeously illustrated world, reminding readers that our most magical moments can exist in the here and now. A remarkable debut that delivers abundantly."
— Antwan Eady, author of Nigel and the Moon
Events: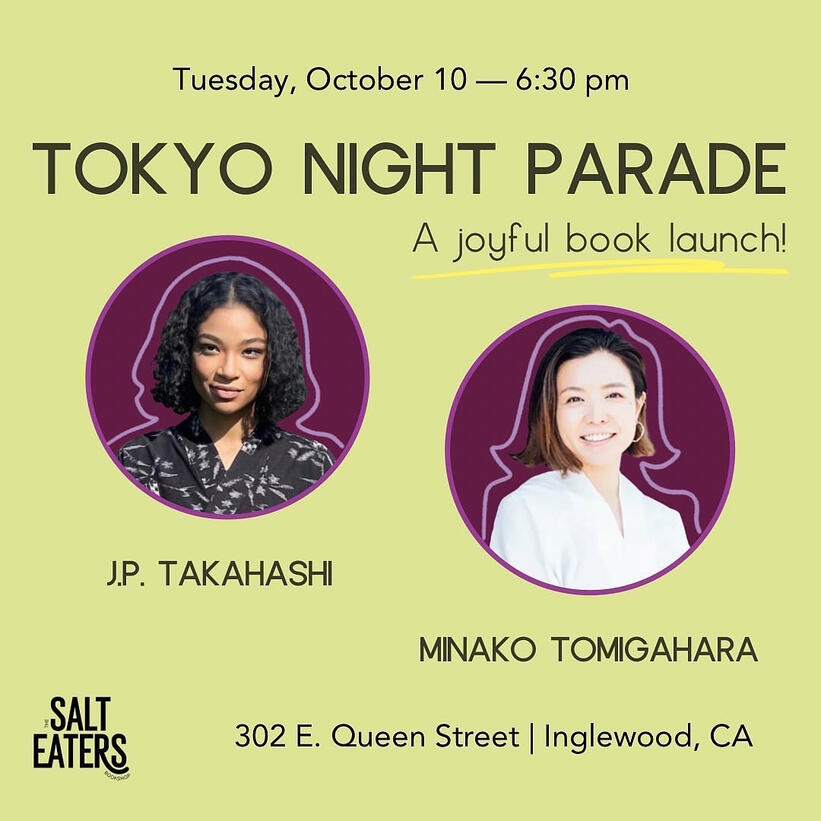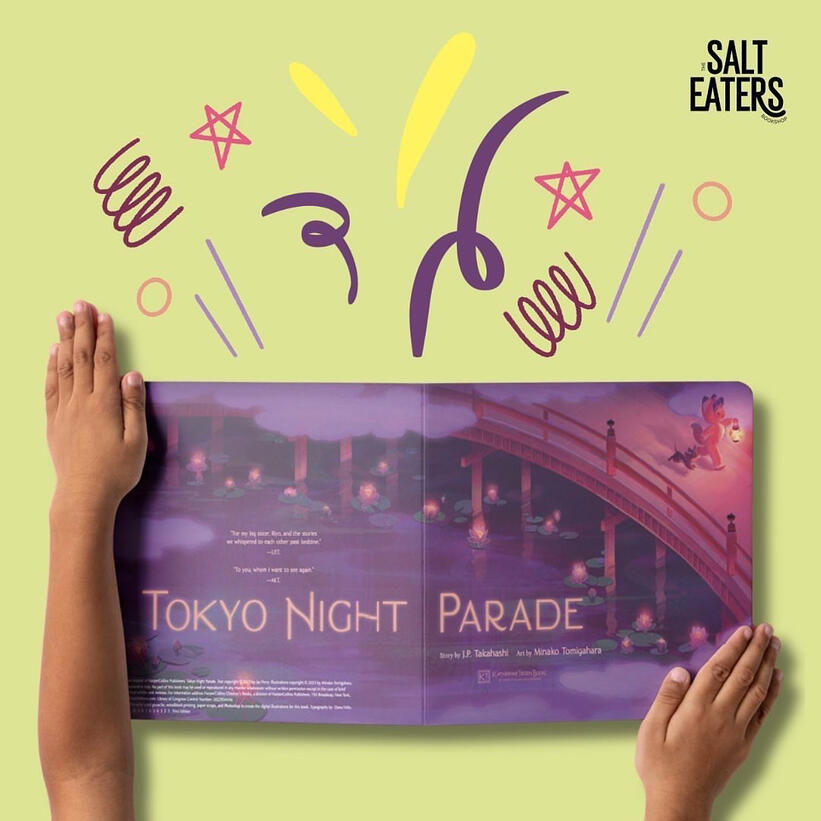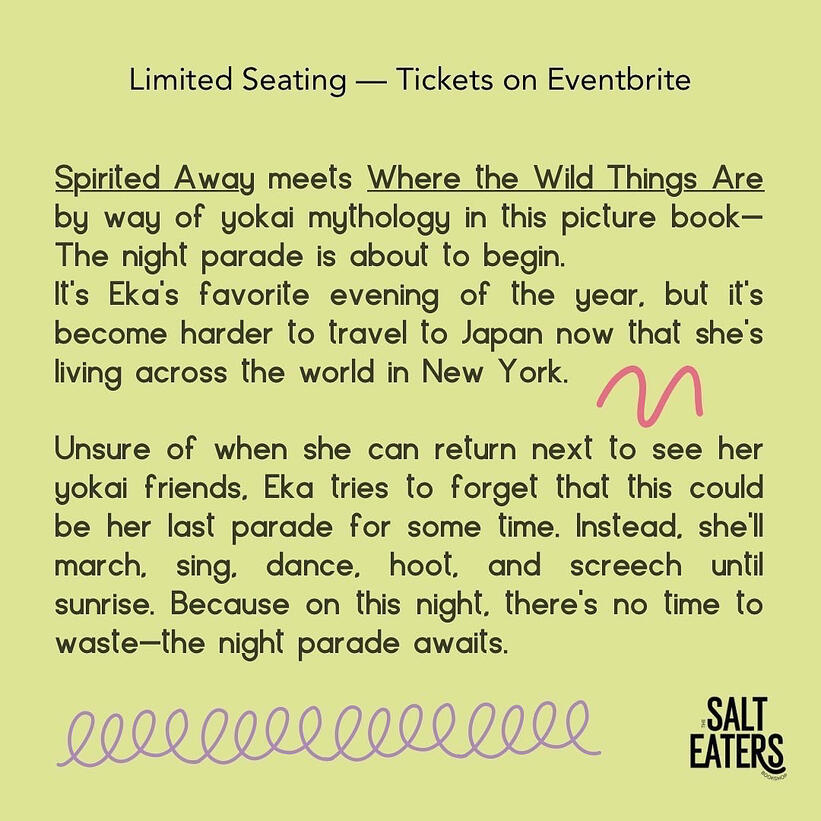 October 10, 2023
TOKYO NIGHT PARADE Launch with Minako Tomigahara
The Salt Eaters Bookshop
302 East Queen Street Inglewood, CA 90301
6:30pm PTLimited seating - RSVP
October 14, 2023
TOKYO NIGHT PARADE Storytime & Signing
Barnes & Noble - Walnut Creek
Plaza Escuela
1192 Locust Street Unit D400-500 Walnut Creek, CA 94596
12:00pm PT
October 19, 2023
Eastern Shore Writers Association
Virtual
Getting Your Writing Out: a Debut Kidlit Author Panel
with Charlene Thomas, moderated by Meg Eden
Meet debut picture book, middle grade and young adult authors and illustrators as they share their publication and writing journeys, what they've learned along the way, and practical tips for aspiring writers on working with agents and editors. Bring any writing or publication questions you have!
Past Events
Kweli Journal • The Color of Children's Literature Conference 2023
Voice and Audience: First Pages w. Arthur Levine, Allie Levick, and Phoebe Yeh; moderated by: Arely Guzman
Contact
Representation:
Books: Kathleen Ortiz, KO Media ManagementFilm/TV: Mary Pender, United Talent Agency
Publisher:
TOKYO NIGHT PARADE: HarperCollins Children's / Katherine Tegen BooksWAITING FOR HANAMI: HarperCollins Children's / Katherine Tegen Books
Email:
jpt [at] jptakahashi [dot] com
Media Kit
Photo credit: H. Walker. Reprint permitted for publicity purposes.All info and files downloadable here.
---
Short Bio:J.P. Takahashi was born in New York City and raised by a family of readers in the United States and Japan. She loves a good adventure, in real life and in her imagination—especially when it's as scary as it is magical.Standard Bio:J.P. Takahashi was born in New York City and raised by a family of readers in the United States and Japan. She loves a good adventure, in real life and in her imagination—especially when it's as scary as it is magical. By day, J.P. works in publishing as a literary agent. She's the author of Tokyo Night Parade (2023) and Waiting for Hanami (2025), and can be found online at jptakahashi.com and on Instagram @TakahashiPerry.Social Media Links:Instagram: https://www.instagram.com/TakahashiPerryBuy Links:Tokyo Night Parade (HarperCollins, 2023):HarperCollins ・ Indiebound ・ Amazon ・ Barnes & Noble ・ Target ・ Bookshop